Whenever Kent Hudson, the general manager of the Glasgow Hills Resort & Golf Club, wants to catch his breath, he heads for the course's 17th fairway. "This place can bring you back to reality when the heat is on and you need 20 minutes," he says. From that vantage point on Prince Edward Island's newest golf course, he can see 80 km in any direction: the rolling hills dotted with farms, the island's famous red soil, the sparkling waters of river and bay. He hopes the view along with a stunning design by famed course architect Les Furber will help investors recoup their $5-million stake in Glasgow Hills. Perhaps best of all is what Hudson can't see from there: the three courses already operating nearby and another in the works a reminder of just how competitive the fight for golfing dollars has become on Prince Edward Island.
Glasgow Hills, in New Glasgow, 20 km east of Charlottetown, is the island's 22nd golf course. Not bad for a 5,620-square-km province with a year-round population of just 138,000. It won't be the last new course either: proposals for over 20 more are floating around island boardrooms. That's decidedly more optimistic than a recent KPMG Consulting Services report that concluded the province could support just four more. But golf is big business in Prince Edward Island, wherein 1999, the industry injected $70 million into the economy. So, for now, no one seems too worried about saturating the market. "Our goal is to become the No. 1 golf destination in Canada," declares Ron MacNeill, Tourism P.E.I.'s director of development. "The more courses a place has, the greater the overall attraction."
The provincial goverment has a model in mind: the once sleepy South Carolina community of Myrtle Beach. From a standing start 40 years ago, it has become a booming retirement and vacation mecca thanks in large part to 115 courses within a 110-km stretch. Prince Edward Island first got a sense of the industry's potential in 1993 when the American duffer's bible Golf Digest awarded The Links at Crowbush Cove five stars, one of only two courses in Canada to fetch the magazine's coveted top ranking (Highlands Links Golf Course in Ingonish, N.S., was the other). Suddenly, the golf world was wondering where Prince Edward Island was. At the time, the province sported just 12 courses.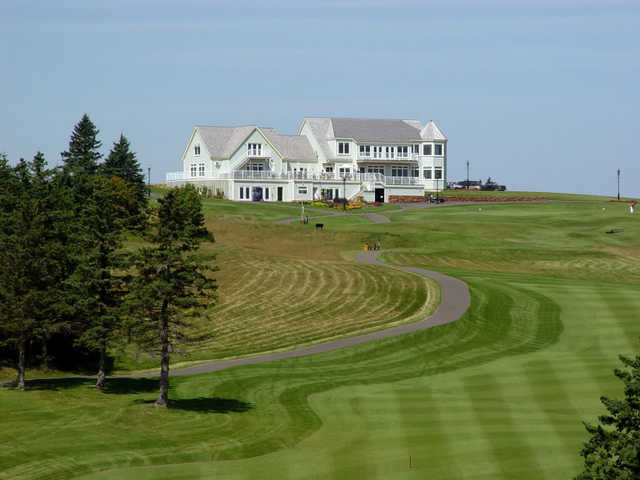 It didn't take long for the provincial government to grasp the math: golfers spend, on average, $180 a day locally, compared with the $100 non-golfing visitors shell out. The province developed a new tourism strategy around the game, establishing a special marketing cooperative, Golf P.E.I. Last year, it spent $250,000 promoting island golf throughout Quebec, Ontario, and New England.
Word is getting out: an estimated 175,000 of the island's million visitors in 2000 played at least one round of golf. The cash they poured into local pockets for everything from food and accommodations to golf gear and mementos makes a big difference in places like Crowbush, and in Morell, approximately 35 km northeast of Charlottetown, which are off the usual beaten tourist path. "This course being where it means another 50 people are working who just wouldn't have jobs otherwise," says Roger MacInnis, a former schoolteacher who now manages The Links golf shop. Prince Edward Island is discovering there is more than one way to score on the golf course.